USA Total Security | Guide to Garage Doors 2022
/
Garages are an excellent option for homeowners to store their belongings, park their vehicles, and even expand usable space. And with quality garage doors, the benefits are endless.
There are a plethora of garage doors available in the market from where you can choose the best. However, choosing the perfect garage door that enhances your home's curb appeal can be daunting.
Garage doors not only boost the overall exterior of your house but also add value to your property. Most importantly, it offers the much-needed security for protecting your valuables. And to get everything right, you must always look out for "the best garage doors near me".
This comprehensive guide will provide you with informative insights regarding garage door types, installation, repair, and much more. Keep reading or skip on to the section which interests you. Lets begin.
Types of Garage Doors
There is an extensive array of garage door opening mechanisms and designs widely available in the market. Besides, you can also customize your garage door parts according to your choice of color, material, and finish.
So whenever you plan for a home renovation next, make sure you choose the right garage door. No wonder you can improve the curb appeal of your home instantly. Let us now quickly take a look at the best types of garage doors available in the market. While digging deeper, you will learn the benefits of installing every garage door.
Retractable Up and Over Garage Doors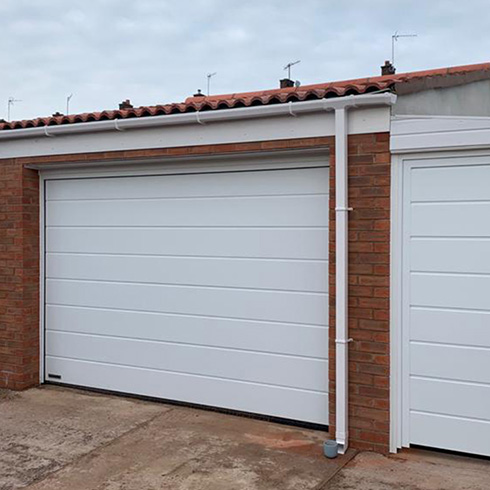 A retractable up-and-over garage door is one of the most popular types of garage doors in the US. They are generally made of a single sheet of material lifted upwards and folded backward. Thus, it can seamlessly lay flush with the ceiling of your garage.
When the retractable garage door is rolled backward, the doors slide into your garage opening. Besides, it doesn't have any kind of overhang.
Canopy Up and Over Garage Doors
The canopy up and over garage doors is quite similar to that of a retractable one. Nevertheless, one-third of the garage door remains protruding outside the garage opening. Thus, it creates a canopy-like cover for your garage.
Some of the benefits of retractable and canopy up and over garage doors are:
This kind of garage door is very easy to purchase and install since it comes as a large single sheet.
It maximizes the garage's interior and exterior space while the door folds backward. Further, the doors sit flush with the ceiling.
It comes with two mechanism options.
This is an ideal option for garages without any power connection.
The canopy up and over garage doors prevents external elements from entering the garage space.
It is an ideal choice for every single-sized garage.
The opening mechanism of this garage door can also be automated with the help of an efficient locksmith.
Sectional Garage Doors
The traditional sectional garage door is regarded as the most secure garage door available in the market. These doors have essentially large foldable sections which are hooked into place when closed. So, it becomes impossible for burglars to enter your garage.
Some of the compelling benefits of sectional garage doors are:
It maximizes both the interior and exterior space of the garage. These doors are lifted vertically and don't protrude outside the garage opening.
This garage door is stylish and can enhance your home's curb appeal.
It is available in both insulated and non-insulated forms.
You can seamlessly park your cars without affecting the operation or entry.
It is usually sealed with rubber gaskets. Thus it provides complete security to all your valuables within your garage. Also, it prevents any external elements from entering the garage space.
It can be operated in both manual and automatic ways.
It provides a high level of security.
Sliding Garage Doors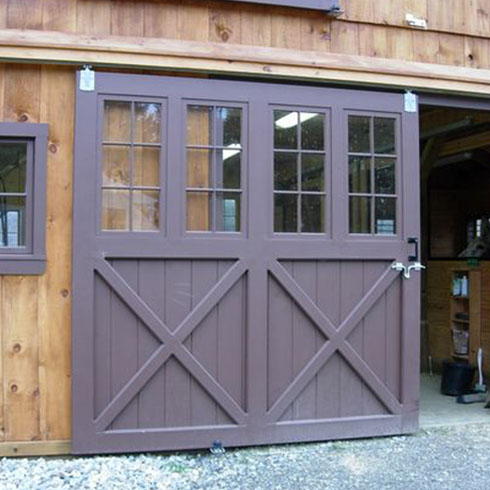 The sliding garage doors usually open and sit flush along one side of your garage. These doors can be opened partially and are the best choice for seamless and fast pedestrian access.
Listed here are a few benefits of the sliding garage doors:
This kind of garage door has a standard manual operation. However, you can hire a residential locksmith and essentially automate the door's functioning.
The entire portion of the garage can be used as the doors come with a significantly space-saving design.
It is probably the best choice for double-width garages.
These garage doors are exquisitely made to fit your garage's exact dimensions.
It can be easily slid and opened and thus requires significantly lower maintenance.
It is a great choice for those garages which have pedestrian access on a regular basis.
Roll Up Garage Doors
The roll-up garage doors are basically rolled upwards and are made to sit back behind the garage opening. Nevertheless, it is possible only if sufficient headroom accommodates the door. If not, the door essentially sits within the opening.
These garage doors are not manual and are typically controlled with an electric remote. So, you must keep the garage door opener remote handy whenever you need to access your garage.
Listed here are some of the benefits of roll-up garage doors:
It is an ideal choice for those garages which have little headroom space.
It is available for both single-width and double-width garages.
This kind of garage door is essentially fitted as an automatic. However, you will also find non-automated versions of roll-up doors as well.
It maximizes both the interior and exterior space of the garage. This is because the garage door is vertically rolled up within the garage opening.
It is available as both insulated and non-insulated. Thus, it makes a perfect choice for those garages which are connected directly to a home's interior.
Since these garage doors are operated electronically, it provides greater security than the standard ones.
Side-Hinged Garage Doors
The side-hinged garage doors usually open on the outer side of the garage. These doors are quite similar to those of the traditional double doors. Thus, it significantly maximizes the garage space.
Some of the benefits of side-hinged garage doors are:
This option is ideal for those who use their garage as a storage space.
The best option for those garages which you can regularly access on foot.
It is effortless to install.
This garage door can have automated operations.
The side-hinged garage door usually requires low maintenance. Thus, it is extremely easy to operate.
By now, you must be familiar with all the types of garage doors available in the market. If you are considering taking up a garage door installation or replacement project, please go through the next section.
Things You Must Remember Before Installing a Garage Door
Taking up a garage door replacement or installation project can be quite intimidating. It is quite challenging for those who don't possess the requisite skills to accomplish the task.
It is no secret that the garage doors are cumbersome. Besides, handling the torsion springs without any prior knowledge, skills, or efficiency can be immensely dangerous.
However, the difficulty of installing garage doors can essentially vary according to various factors. But if you're determined to install it all by yourself, carefully choose a store that caters to the same.
On the other hand, this task is not quite challenging for the experienced home-handy person. However, it is always recommended to conduct thorough research before commencing this complex project.
Check out the following pointers to enhance the success of your garage door installation project.
Completely Clear the Garage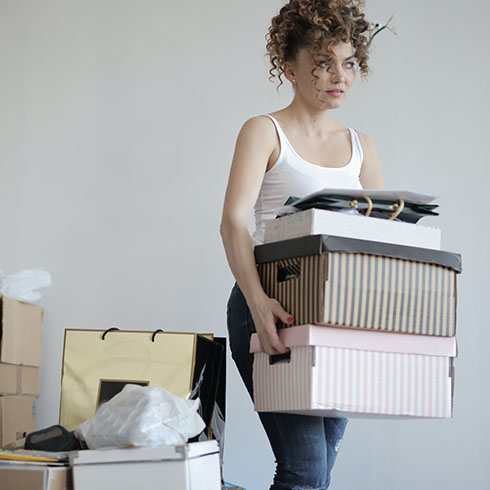 It is very normal if you use your garage space as a store room. So when you take up a garage door installation project, make sure that everything is cleared out.
Also, check whether the garage has a clear, spacious, and safe working space. Don't forget to ensure that the entrance at the top of the driveway is entirely clear. You should also remove all vehicles from the garage and check whether every wall hangings are safe and secure.
Moreover, it would be best if you cleared out every obstacle along the way to eliminate minor accidents.
Detach and Remove the Old Garage Doors
Old garage doors with standard torsion springs can pose a significantly greater risk. If your garage door is exactly the same, you should never try to remove it all by yourself.
If the doors are not handled properly, the springs can essentially turn out to act like weapons. And if you don't know how to handle them properly, it is likely to cause serious injuries.
So, it is always best to hire a skilled professional. An efficient and experienced handyman can seamlessly remove the old garage door.
Thoroughly Inspect and Prepare the Frame of the Garage Door
After removing the old garage door, you need to scrutinize your door frame. Check whether the frame has been infected with any kind of rotting.
Once you've checked that your door frame is sturdy and fine, you can now gear up to install the new door. And to ensure better functionality, you must install the new door exactly within the solid frame.
Failing to conduct a thorough inspection might have you redo the garage door frame all over again. So make sure you are very careful while doing this part.
Careful Hardware and Fastening
A garage door is always on the front line whenever it comes to the well-being of your loved ones. It not only secures your vehicles but also grants complete protection to your valuables and also your family.
For a garage door to fulfill its job, it must have the capability of withstanding every trial and error. So it is always best to purchase brand new hardware that the manufacturers approve.
Also, you must ensure that every fastener of your garage door is tight enough. Thus, it will prevent the 400 pounds garage from falling on your vehicle or any person.
Properly Leveled First Section
Before assembling a new garage door, you must check whether the first section has proper leveling. This will significantly prevent you from installing crooked doors for your garage.
And to ensure straight sectioning, you must have lots of patience and a meter as well.
Careful Spring Adjustment
Spring is regarded as the heart of a garage door's security and operation. While doing this part, you need to be extra mindful and carefully read the instructions for adjusting door springs.
The spring is appropriately adjusted when the door is halfway opened and has proper balance. But if the case is different, you need to fix the garage door while readjusting the spring.
Assembly and Inspection
The last thing you need to do is check every sub-assembly of your garage door. Please ensure that all the parts are snugly and no part is left idle on the floor or driveway.
So you need to check whether the door is gliding quietly and smoothly. And once you ensure this seamless action, you are officially done.
Even after a successful garage door installation, there might be significant issues with the garage door. The next section will take a quick look at the common garage door problems. Lets get rolling.
Common Garage Door Problems You are Likely to Encounter
On average, a garage door opens and closes at least 1,500 times every year. The number itself states that it is quite a lot of heavy lifting across one year. With such extensive usage, garage door problems are a common headache for almost everyone.
Thankfully, most of the common garage door problems have essentially quick fixes. This means you will not have to search for "garage door repairs near me" and acquire professional assistance from USA Total Security.
At times, a reliable garage door will also require significant repairs that you can't fix by pushing a few buttons. Here is a comprehensive listing of the most common garage door problems. Also, it comes with some quick and easy solutions that might fix the issue.
Keypad is Non-Functional
Every garage door doesn't require a keypad to open. But the ones who have keypads can become essentially faulty. Before you start panicking and head over to call an emergency locksmith, check whether the batteries are dead.
You can replace the batteries and check back whether it fixes the issue. Sometimes, the keypad might also require reprogramming. For further information, you can check and consult the manual of your keypad.
Opener Switch Not Working
Sometimes, the opener switch of your garage door refuses to budge. The reason behind this might be that the lock switch of your garage door is active. For such a case, you need to have patience, disable the lock button, and try opening it again.
However, the reason could be quite complex. Probably the circuit breaker has tripped, or the photo-eye sensor has suffered significant damage. If this is the case, you might have to call USA Total Security. They can check the possible odds and efficiently fix the persisting issues.
Garage Door Neither Opens Nor Close
There might be times when your garage door becomes unresponsive to every signal it receives. The reason behind this issue might be endless, and you might have to opt for garage door repair.
But first, you need to check whether the keypad and remote batteries are functioning properly. If they are working fine, you can monitor the garage door opener. Sometimes, this might become non-functional, and the signal lights might not work correctly.
On the other hand, the motor might also be disconnected from the power supply. And worst of all, your garage door won't open or close if the fuse is completely down.
You can consider attending to every problem individually. This will be comparatively easier for you to rule out all the significant causes. And if none of them helps, you should immediately get in touch with professionals to diagnose the problem.
Remote Control is Non-Functional
Just like all the other garage door problems, a faulty remote control can be significantly annoying. You can consider replacing the batteries and check whether it fixes the problem.
Sometimes, the remote is out of range and is incapable of sending signals to the motor. Since distance is the issue, you can try coming closer and operating and checking whether the problem is fixed.
If this tactic is not working, then the photo-eye sensors might be at fault. You should monitor the pathway and ensure that nothing is in the way. So, ensuring that the monitor's alignment is perfect and can efficiently improve signal capturing is essential.
Garage Door is Making Weird Noises
Once you notice that your garage door is making noises, it means there are significant underlying problems. The squeaking sounds might indicate that the rollers are worn out and need instant replacement. Sometimes applying lubrication to the rollers might ease the problems as well.
If you notice a rattling sound, this means something of your garage door has loosened. There are greater chances that the garage door opener's nuts, bolts, and screws have become loose.
You can either fix the issue by yourself or choose to hire a garage door opener repair service. Sometimes, zero lubrication might loosen up the screws. Applying machine oils or even replacing the torsion springs can resolve the persisting issues.
Motor Runs While the Door Remains Fixed
Sometimes, when you try opening your garage door, you might find that the door is too stubborn to move. But if the motors are fully functional, then it is likely for the limits to be off. In such cases, you must listen closely to the sounds of the motor.
Also, adjusting the limits of the motor accordingly can efficiently instruct it when to start and stop functioning. But even if the doors don't move an inch, then the garage door belt is probably disconnected. You can refer to your garage door manual and learn how to reattach the belt.
This issue might happen quite often. It is because someone has unintentionally pulled the emergency release record.
Slow Functioning of the Garage Door
Your garage door will sometimes open and close fine but at a considerably slower pace. This basically indicates that the rollers are dried out, and the tracks have become dirty.
This is a common trouble in dryer climates, especially in winter. The garage doors freeze and dry out faster than usual, making it difficult to slide up and down.
With frequent wiping and lubricating of the tracks, you can prevent this from happening any further.
Uneven Opening of Garage Door
There might be times when your garage door opens and closes but starts malfunctioning halfway through. It could simply signify that the limits are off. You can refer to your manual and check how to adjust the limits by turning a simple screw in the motor.
You can also check whether something is blocking the tracks. Sometimes, the rollers and tracks are susceptible to damage and rust. Wiping the tracks at regular intervals will ensure that no debris is interfering with the track.
Essential Tips to Maintain Your Garage Door
You can deliberately prevent most of the garage door issues with a proper maintenance schedule. Besides, appropriate solutions can prevent the issues from happening in the first place.
Also, you will never feel the need to call 24/7 locksmith services to resolve any significant trouble!
Some of the essential maintenance tips for your garage door are:
Ensure that all hardware is tight enough. This will significantly prevent any loose pieces of your garage door from making weird noises. Also, it will eliminate anything causing trouble to the doors.
Lubricate and brush-clean the tracks and rollers regularly. This will efficiently help in preventing any dirt buildup. Moreover, it will also slow down the pace of wear and tear with every season.
Check the pulleys and springs thoroughly and ensure that they are in proper shape and size. However, make sure they are replaced occasionally under the guidance of professionals.
If these solutions cannot protect your garage door from significant problems, you require technical assistance. So, hiring USA Total Security can efficiently take care of your garage door.